Zimbra Collaboration delivers your Mailbox, Contacts, Calendar, Tasks, Files and much more on any device: Smart Phone, Tablet or iPad and Desktop or Laptop Computer running Windows, Linux or OS X.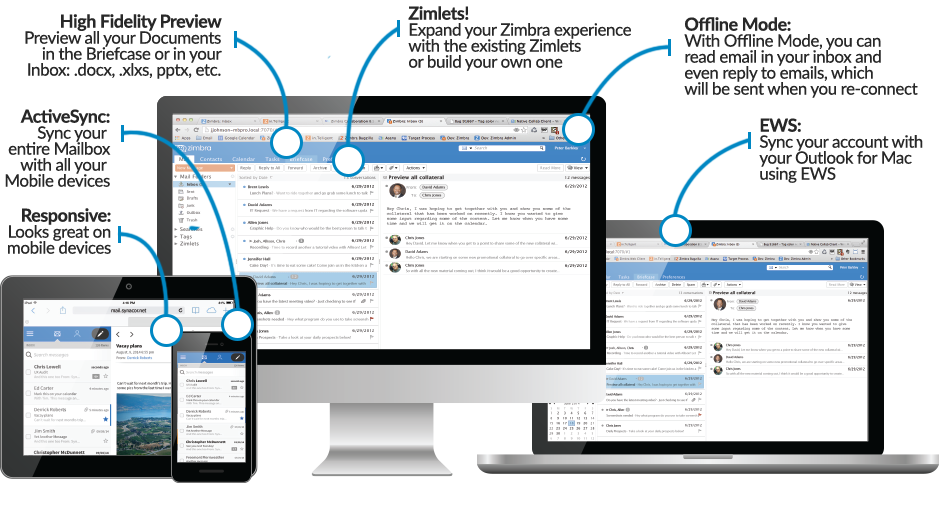 Bring Together Email, Calendaring and Enterprise Applications
Zimbra is an enterprise-class email, calendar and collaboration solution built for the cloud, both public and private. With a redesigned browser-based interface, Zimbra offers the most innovative messaging experience available today, connecting end users to the information and activity in their personal clouds.
Overview
Messaging and Collaboration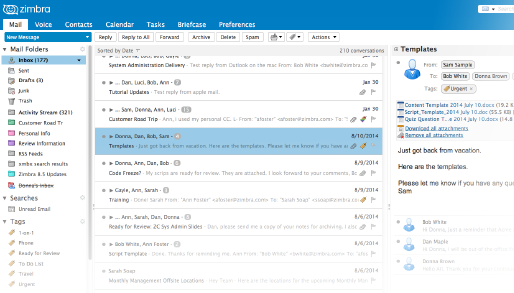 Connect users to their personal clouds with a smarter mailbox that integrates email, voice, tasks, address book, calendar, files and enterprise applications
Choose multiple deployment options: in a private cloud as a virtual appliance or hosted in a public cloud
Out-of-the-box integration with click-to-call, visual voicemail, chat and presence
Stay connected anywhere on any smartphone or other device with automatic sync
Work online or offline with Zimbra Desktop or clients such as Microsoft Outlook
Integrate with external directories for authentication, address lists and provisioning
Operate at a lower total cost-of-ownership (TCO) than comparable legacy platforms
Advanced, Integrated Web Experience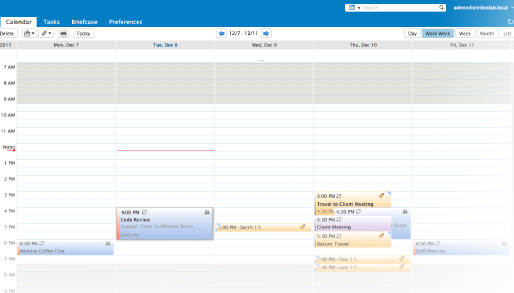 Boost productivity with an innovative, recently enhanced, robust, browser-based interface
New dedicated search tab with common and easy-to-customize filters
Easily send and receive authenticated and encrypted email messages
Productive document management, check in/out, instant sharing of documents and folders
Calendar wizard finds optimal group meeting times and is interoperable with Microsoft Exchange 2007 / 2010
Transform Zimbra into a customized "collaboration hub" by integrating external applications and web services – such as Facebook, Twitter, Socialcast and enterprise applications including Oracle and SAP
Simplified Administration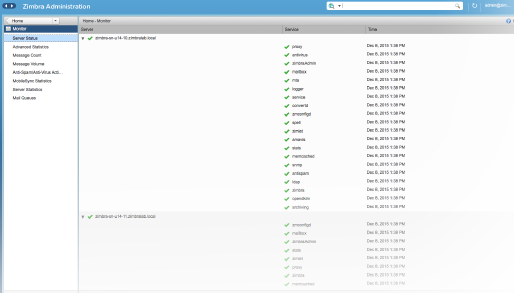 Simplified task-oriented AJAX Web Administration Console enables anywhere administration
Integrated anti-Spam, antivirus and directory services (LDAP, Active Directory)
Real-time mailbox backup and restore; native hierarchical storage management (HSM)
Cross-mailbox discovery and archiving for regulatory compliance
Manage end-user features, quotas, storage policies via Class-of-Service (CoS)
Migration Wizards enable customers to rapidly and easily migrate from Microsoft Exchange and Domino environments to Zimbra
Anywhere, Any Device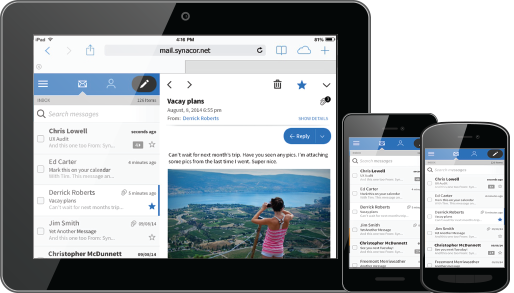 Synchronization to iOS (iPhone, iPad), Windows and Android-based smart phones and tablets
Use any BlackBerry smartphone with Zimbra via Zimbra Connector for BlackBerry Enterprise Server (BES)
Manage security policies and remote device wipe, PINs and device management features on user accounts
Rich browser-based experience for Zimbra email, contacts, calendar and files on any xHTML-capable device
Zimbra Desktop and Desktop Clients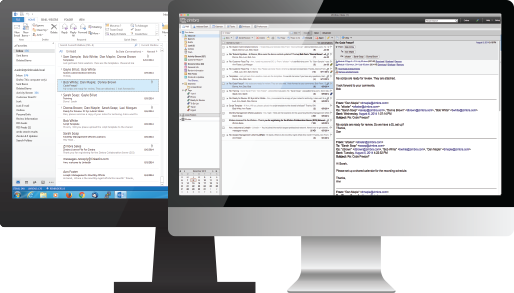 Get the same powerful Zimbra experience offline with Zimbra Desktop, the free email client for Windows, Mac or Linux desktops
Aggregates Gmail, Yahoo! Mail, AOL, Hotmail and other POP/IMAP accounts
Sync Gmail, Yahoo! Address Book and Calendar
MAPI synchronization to outlook 2003/2007/2010 with full delegate, offline access and support for S/MIME
Flexible Deployment and Virtualization-Ready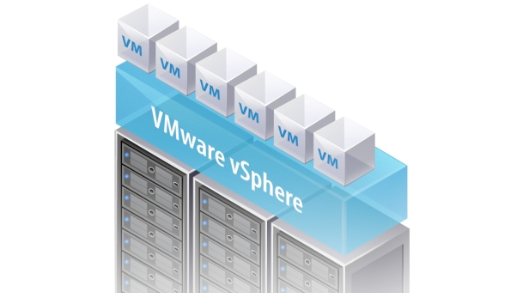 Option to deploy as a Zimbra Collaboration Server natively on hardware or virtualized or deployed as a software virtual appliance
Deploy Zimbra on-premises or as a Cloud service from a VMware hosting partner
Fully supports multi-tenancy and delegated administration for hosting and service providers
Role-based delegated administration to create domain or limited administration settings per account
Zimbra leverages high availability, disaster recovery and backup from VMware vSphere
Smartcard and Common Access Card authentication
E-Mail
A Smarter Mailbox reduces time spent finding important emails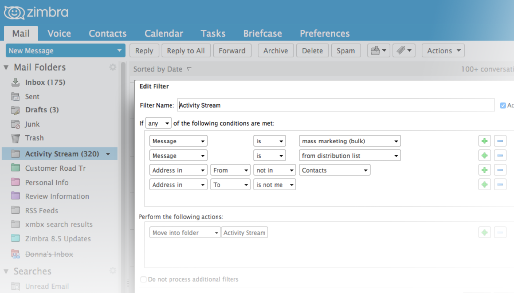 View inbox by message or by Conversation
Drag and drop messages into folders or onto Tag(s)
Share tags across applications and mailboxes
Messages may have multiple Tags and act as 'virtual folders'
Instant filtering of direct messages, distribution lists, feeds and notifications
Move bulk or unimportant email out of Inbox to Activity Streams
Email Compose Tabs eliminate the need for new windows with every message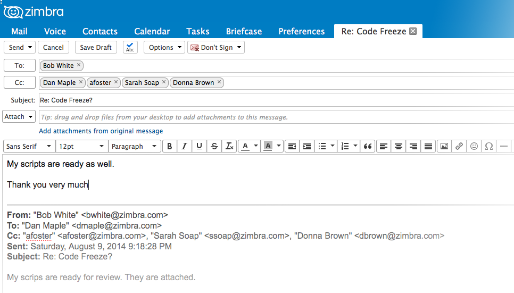 Multiple email compose or calendar event tabs may be open at the same time
Tabs simplify context switching between email and calendar
Rich compose with cut and paste from desktop apps and inline images
Attach multiple files at once from either your computer or Briefcase
Autocomplete to contacts in your personal or Global Address List (GAL)
Integration of email, contacts and calendar makes toggling between them unnecessary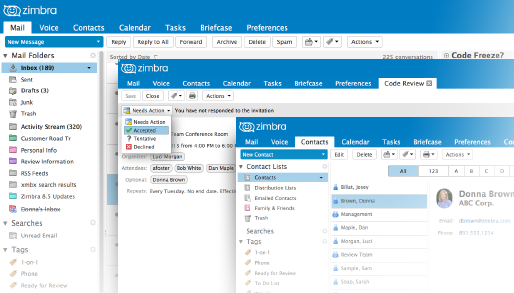 Preview your daily schedule next to a meeting invite in Email
Drag a message onto the Email Calendar Widget to automatically create a meeting with the email recipients, including any attachments and email notes
Drag a message onto Contact Collector to add all message recipients to your Address Book
Recover gracefully with Undo Send, Restore Email and Scheduled Delivery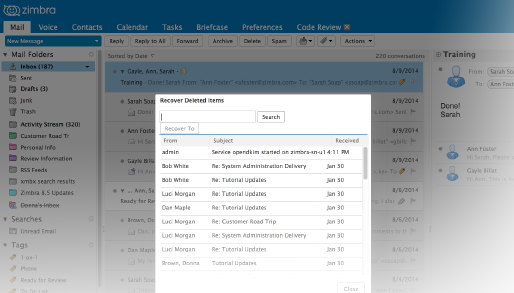 Choose a default delay time between 2 – 20 seconds for messages to be actually sent through the mail queue after hitting the Send button
Recover deleted items from the Trash folder for up to 30 days (administrator configurable)
Send Later using the Send button drop-down, and select a future date, time and even time zone to send an email
Simple sharing with Delegated Access to inbox or folders
Right click on your inbox, a folder or sub-folder and share it within or outside your workgroup (administrators may disable public share if security policy does not allow it)
Grant others View, Manage or Administration rights
Allow delegates to reply 'on behalf of'
Share message folders for collaboration with project teams.
Calendar
Robust calendar designed for the enterprise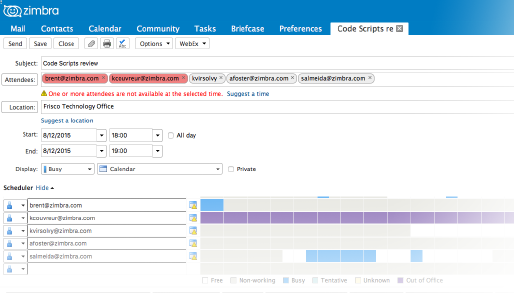 Day, Week, Work Week, Month, List, Schedule Views
Drag and drop events to change date, time or duration
Toggle visibility and color code multiple schedules and events
Mark events public, private, busy
Tag events for faster organization, share them with email, contacts
Multi-Tab Event Compose makes toggling between calendar and email unnecessary
Invite attendees from Global Address List (GAL), view free/busy and set optional/mandatory
Set start-stop and duration times, automatically adjusted for users in other time zones
Choose locations, resources and add attachments
Configurable pop-up, email and SMS reminders
Fully customizable repeating event settings
Group Scheduling Wizard finds an optimal time/place for large meetings in seconds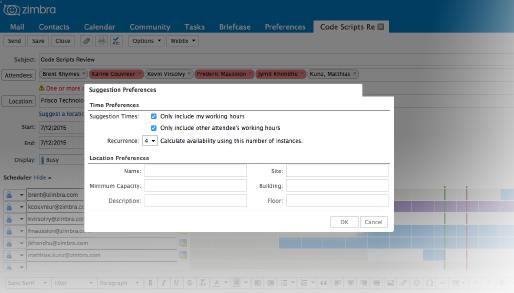 Preview invitees' free/busy times
View time / date by number of available invitees
Auto-suggests next available time / locations
One click to preview all available conference rooms at selected time
Set building, floor and room capacity suggestion preferences
Delegate access to calendars and share calendars with peers
Right-click a Calendar icon to share it within or outside your workgroup
Grant others View, Manage or Administration rights
Allow delegates to schedule and accept meeting invites 'on behalf of'
Publish Calendars publicly to the web and send anyone public 'Free/Busy Links" to share your availability without having to send explicit invites
Smart views for managing multiple calendars
Import any iCal feed or Google calendar into Zimbra Calendar to create a master free/busy view across work, club and personal calendars.
Create new Calendars to add Holidays, Sports, Facebook or Google Calendar as feeds in Zimbra
Set feed display color to easily tell them apart from work schedules
Choose whether feeds will appear in your global free/busy status across the organization
Save time and frustration by not starting over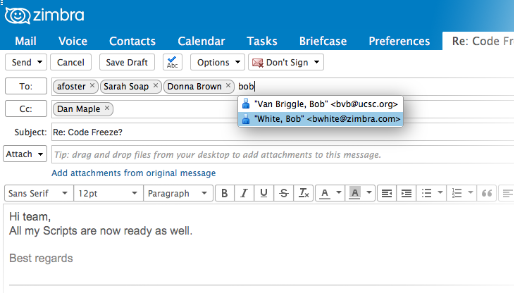 Right-click an event to Create a Copy, which will preserve invitees, attachments and notes (such as dial-in numbers)
Edit copied event without worrying about affecting original event
Use the Trash Folder to view and restore from a list of deleted events (storage retention policy is admin configurable)
Communications
Feature-rich integrated experience for end users, accessible directly from the inbox on any device, anytime
Click-to-Call: One-click dial for numbers in Zimbra Web Client; bridges the call to customizable numbers (home, desk or mobile)
Visual Voicemail: Integrated access to voicemails in the Zimbra Web Client, inline playback, pause, delete, forward, download, restore and call back numbers; delete, read, and unread are synchronized across phone devices
Instant Messaging (IM) and Presence: Click-to-chat from hover over contact card of any address; rich presence displayed from anywhere in the inbox; launch IM using desktop chat clients with Click-to-IM
Call Record History*: View missed, placed and received calls in the Zimbra Web Client; initiate call backs from the numbers in the record history
Web Conferencing*: Complete integration available with Cisco WebEx; users can manage, launch, and join meetings and add WebEx details to calendar appointments
Simplified IT administration and management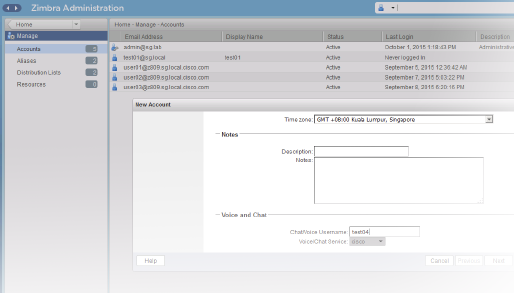 Easily configure and manage user access and policies through the Zimbra Web-based administration console accessible anywhere, anytime
Set up user preferences in three easy steps with integrated authentication and provisioning
Standards-based framework enables Zimbra to easily integrate with existing UC deployments
Out-of-the-box integrations with Cisco and Mitel
Extensive support for custom UC integrations through the Zimbra SDK
Broad UC Partner Network that offers freedom of choice for UC solutions
Flexible and extensible framework for UC integrations
UC features can be delivered by either client-side integrations or server-side integrations
The client side enables faster IT implementation and extensibility using the Zimlet framework (Javascript & web services) that proxies directly to the UC server for features
The server side is Java-based and enables tighter integration and enhanced user experience with the features delivered to the web client by the ZCS Server
Open source code and documentation available for custom UC integrations
Flexible implementation options enable IT to balance TCO and UC needs and extend as business needs evolve
Collaboration
Zimbra Collaboration Server can be shared internally or externally
Share Inbox mail folders, Address Book contacts, Calendars, Tasks, Briefcase folders and files
One standardized sharing UI, which is integrated with Global Address List (GAL)
Choose internal (read, manage or administrative access) or external publishing (view only with password or public URL)
Available settings to users are all Administrator configurable
Streamline sharing management as new users join an organization or distribution alias
Find Shares in any core application and add folders previously shared to them or a distribution alias to which they belong
Manage share history in Preferences by application and user, change permissions or revoke status
Administrators may use the Admin Console to quickly enable share notifications
An Integrated document management Briefcase eliminates the need for separate document management tools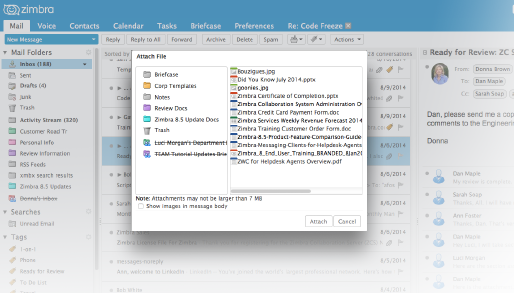 Upload multiple files of any file type in one step from the desktop to Briefcase
Save email attachments direct to Briefcase instead of downloading to the desktop
Attach files during Email Compose from Briefcase
Share Briefcase folders with peers
Create personal or team Task Lists with due dates, priority and percent complete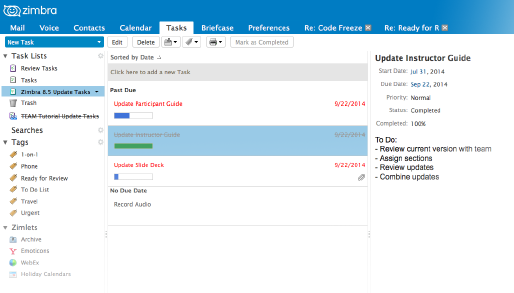 Quickly sort Task View by priority, status and past due
Set reminders on Tasks and receive email Daily Digest of Tasks
Rich text compose for details and attach files
Tag Tasks for additional organization or to associate with projects common across Zimbra applications
Sync to Outlook and smartphones